Commercial meat cutting machine for chicken, lamb, fish, pork meat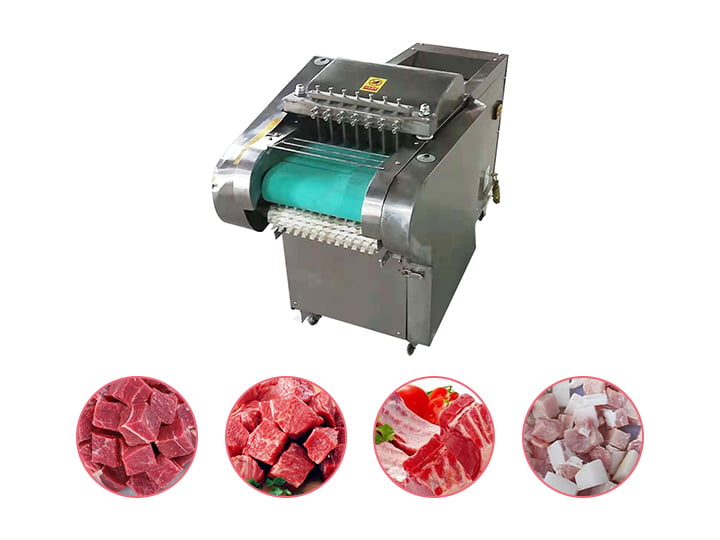 The meat cutting machine is a meat cutter machine developed by imitating the principle of manual meat cutting. It has a wide range of applications, it can cut small and medium animal bones, ribs, frozen meat, frozen chicken, frozen fish, etc. The automatic meat cutter machine adopts automatic operation, the whole machine is wrapped with stainless steel cover, which is clean and hygienic. It is widely applied in large, medium, and small food processing plants, slaughterhouses, meat processing plants, restaurants, and other places.
Automatic cutting machine parameters
| | |
| --- | --- |
| Model | TZ-600 |
| Capacity | 600-750kg/h |
| Power | 220v(3.5kw) 380v(2.2kw) |
| Weight | 250kg |
| Size | 1300*600*960mm |
Commercial meat cutter features
The meat cutting machine can realize continuous and automatic work. Only need to put the meat on the conveyor belt, it can realize cutting automatically.
The fish cutting machine is suitable for cutting a variety of meats. This machine is not only suitable for cutting cubes, but also for cutting into sections, dices, and other specifications.
The electric meat cutter machine can cut chicken, fish, and pork ribs into different specifications meat pieces by changing different sizes cutting blades.
The new type of meat cutter machine adopts a flat body design and a stainless steel ceiling plate, which conforms to food hygiene and is easy to clean and maintain.
The cutting machine has the characteristics of compact structure, beautiful appearance, easy operation, and high output.
Video show
Chicken cutting machine application range
The commercial meat cutter machine has a wide range of applications. It is suitable for cutting fresh meat and slightly frozen meat. For example, whole chicken, whole duck, whole rabbit, lamb, ribs, frozen chicken, frozen fish, and other meats.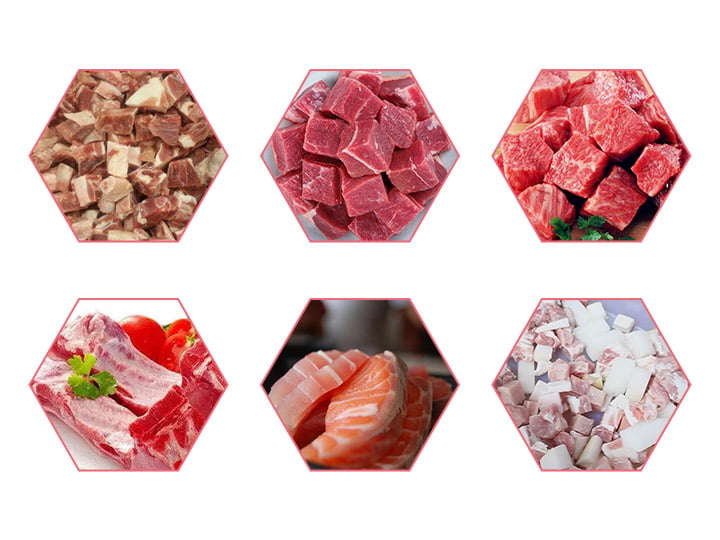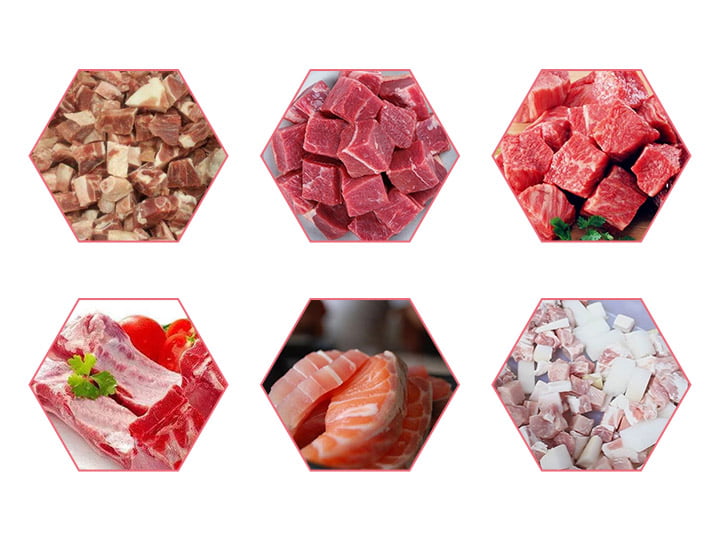 FAQ of electric meat cutting machine
Can this machine cut frozen meat?

Yes,it can cut fresh and frozen meat.
What size of meat can be cut by this machine?
The meat cutter machine can customize the knives, you can tell us your cutting size, and we will customize the knives for you.
What system do you use to up and down the cutter?
Main and auxiliary crankshaft connecting rod structure.
Can the automatic meat cutter machine adjust the length of the cut meat? How to adjust?
Yes, we have professional manuals and videos to guide the operation.
What are the spare parts of this machine?
Mainly blade
Do you also attach CE plate in the machine correct?
Yes, we can post it for you.