What's the features of Enema Machine?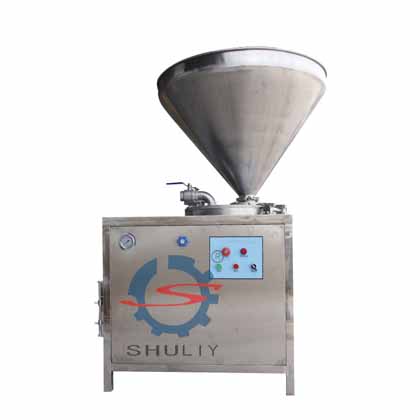 The hydraulic sausage filling machine is made of SUS304 high quality food grade stainless steel, which is reliable, durable and easy to clean. It meets food safety requirements.
The hydraulic sausage filling machine, as its name suggests, uses a piston-type hydraulic drive. After adjusting the working pressure, under the action of the hydraulic cylinder, the material in the cylinder is pressed and  extruded. The applicable material range is wide, especially for the dry stuffing. It is more efficient。
The hydraulic enema machine has reasonable overall structure, beautiful appearance, stable performance, simple operation and convenient maintenance.
The sausages made by the machine are good for all kinds of meat processing factories, all kinds of star-hotels, restaurants and snack bars, canteens, workshops, markets, etc. The electric sausage filling machine is also the ideal equipment for filling sausages in the home with low power consumption, low noise, improved product quality, easy to clean, new mechanical gear system. Users can quickly remove the piston and easily refill quickly, easy to clean 4 kinds of transparent enema tubes, convenient to adjust the shifting device of the upper and lower levels;