Meat Smoking Oven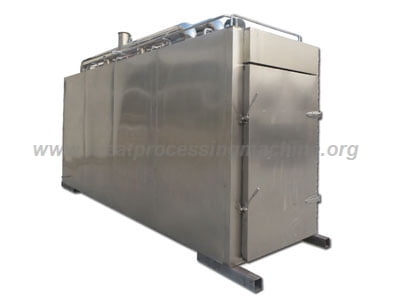 Smoke oven brief introduction
The smoke oven has the functions of cooking, drying, smoking, cleaning, and safety protection. The unique air circulation system of the smoking oven effectively ensures the consistency of temperature and humidity during the baking, cooking, drying, smoking, and other processes of the product, thereby ensuring the color and appearance of the product.
Smoking oven working principle
The smoker is controlled by a computer, and the man-machine interface screen is displayed on a screen with multiple parameters at the same time to monitor the operating status; it can be remotely controlled, print recipes, temperature, humidity curves; and store 100 recipe processes.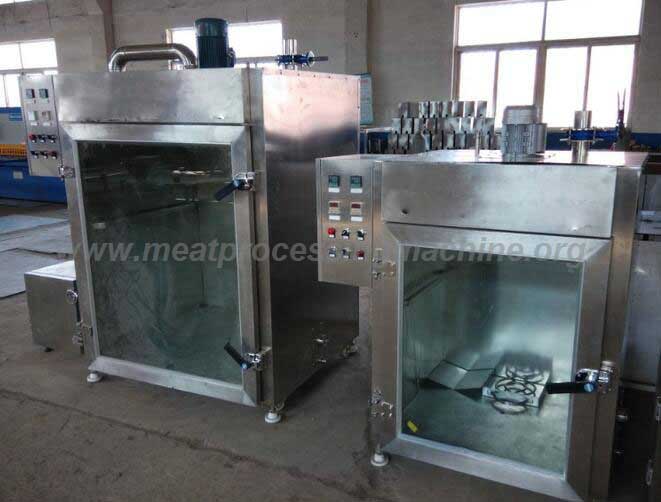 Technical parameter
| | | | | |
| --- | --- | --- | --- | --- |
| Model | Size | Capacity | Power | Weight |
| TZ30 | 800 * 800 * 1600 | 30kg | 4.75kw | 330kg |
| TZ50 | 1000 * 1000 * 1850 | 50kg | 6.5kw | 400kg |
| TZ100 | 1380 * 1340 * 1950 | 100kg | 12.5kw | 750kg |
| TZ250 | 1350 * 1510 * 3000 | 250kg | 5.5kw | 1900kg |
| TZ500 | 2400 * 1510 * 3000 | 500kg | 10kw | 2800kg |
---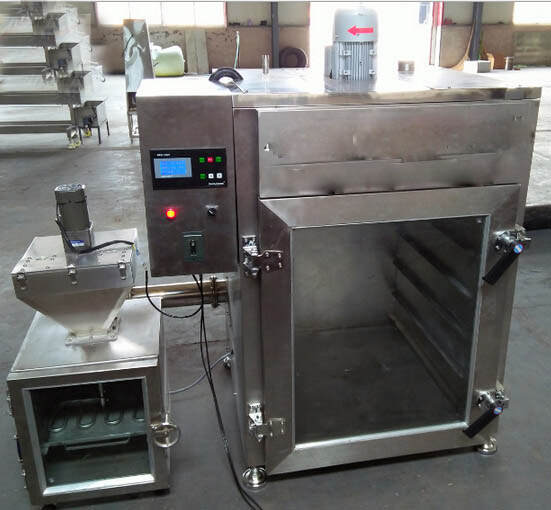 Advantages
1. Does not contain 3, 4-benzopyrene carcinogens, the smoked food is safe and reliable;
2.Reduce the investment of traditional methods in plant, equipment and other aspects;
3. Can realize mechanization, electrification, continuous production operations, greatly improve production efficiency;
4. Its production technology is simple, easy to operate, short smoking time, low labor intensity does not pollute the environment, and the products are used for anticorrosion, fresh-keeping and quality preservation.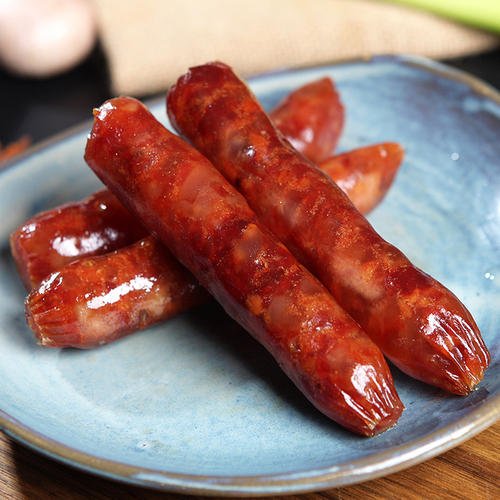 Structure description
Mainly composed of furnace body, electric heating system, circulating air system, smoke system and electric control system.

1. Furnace body: all components in the furnace body and the outer wall are made of stainless steel, corrosion resistant.
2. Electric heating system: it is composed of cooking and drying. The drying part: turn on the electric heating, the hot gas exchanges heat through the heat exchanger in the furnace, and the products in the furnace are baked.Cooking part: it is entered by the external steam system and directly heats the products in the furnace.
3. Circulating air system: the top of the furnace is equipped with an electric fan. High power and large air volume ensure the temperature rise in the furnace, make the temperature uniform everywhere, and ensure the quality of products stable and reliable.
4. Smoke system: put the smoked wood pellets into the heating plate in the smoke box, and the smoke generated will be sent to the furnace to smoke the products through the smoke pipe.
5. Electrical control system: adopt advanced human-machine interface and programmable controller, fully automatic control and monitoring of each process, reliable operation and easy operation, good waterproof performance.