Brine injector machine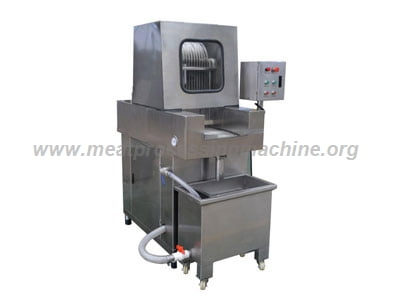 Parameters
You can now ask our project managers for technical details
Brine Injector Machine Brief Introduce
1. This brine injector machine is to inject saline, starch, soyabean protein, and other auxiliary material into meat to marinate fully. Based on advanced technology and mechanical device, it can realize quick marinate, improve taste, keep meat nutrition, etc.
 2. The brine injector machine can be matched with tumbler machine to work, it can reduce the process time of tumbling, and the tumbler machine can solve the nonuniform of saline after injection, it can supplement each other.
Automatic brine injector Working principle
  1.  The saline injection machine adopts tooth form stepping to feed meat, with accuracy stepping distance. The meat materials use three dismountable lattice bar to support, the entry needle adopts spring to control, so as to realize inject the meat with bone.
  2. This machine can adjust stepping speed, stepping distance, meat press plate space and injection pressure according to different meat materials, so as to get ideal effect.
  3. This machine adopts four level filtration to prevent needle blocking, it's an ideal equipment to process meat.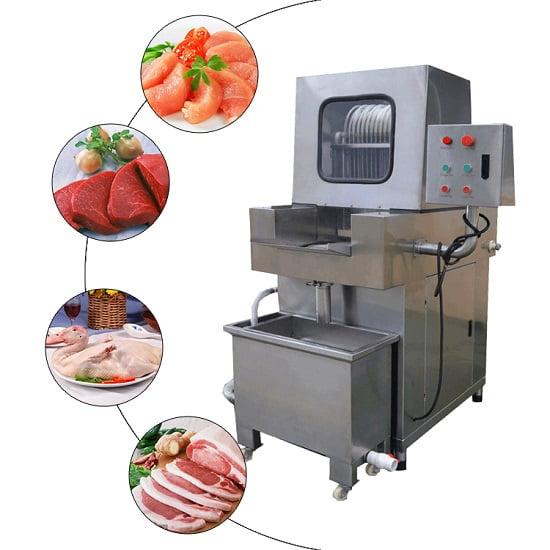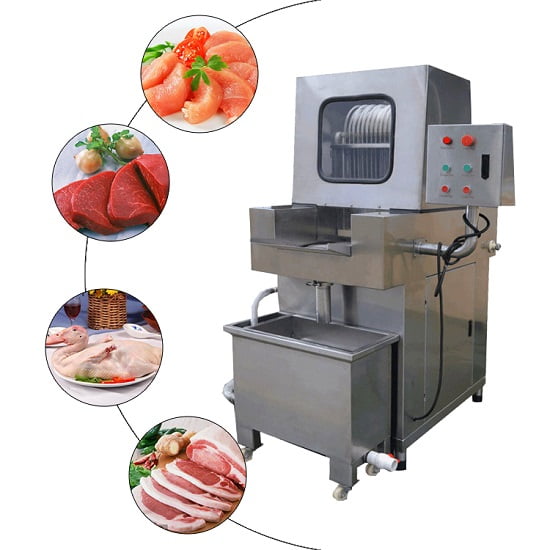 Technical Parameter of Brine injector machine
Model
SL-48
SL-60
SL-80
SL-108
SL-180
Voltage(v)
380
380
380
380
380
Power(kw)
4.1
4.1
5.1
6.2
7
Capacity(kg/h)
200-300
300-500
500-700
700-900
900-1000
Injection Pressure(Mpa)
0.45-0.9
0.45-0.9
0.45-0.9
0.45-0.9
0.45-0.9
Injection Time
15-40
15-40
15-50
15-50
15-50
Injection Rate
40-80%
40-80%
40-80%
60-90%
60-90%
Walking Speed
40-70
40-70
40-70
40-70
40-70
Dimension
(mm)
1350*750
*1650
1550*880
*1650
1550*1060
*1720
1850*1350
*1800
1950*1350
*1850
Weight(kg)
250
320
320
430
520

Saline injection machine features
1. Adopts SUS 304 Stainless steel materials with simple structure and convenient operation.
2. Reasonable design and structure,, convenient clean, long service life.
3. This machine is equipped with automatic protection device, if the entry needle touch any hard matters, it will uplift without damage.
4. distribution box is stainless steel waterproof