Commercial frozen & fresh meat dicing machine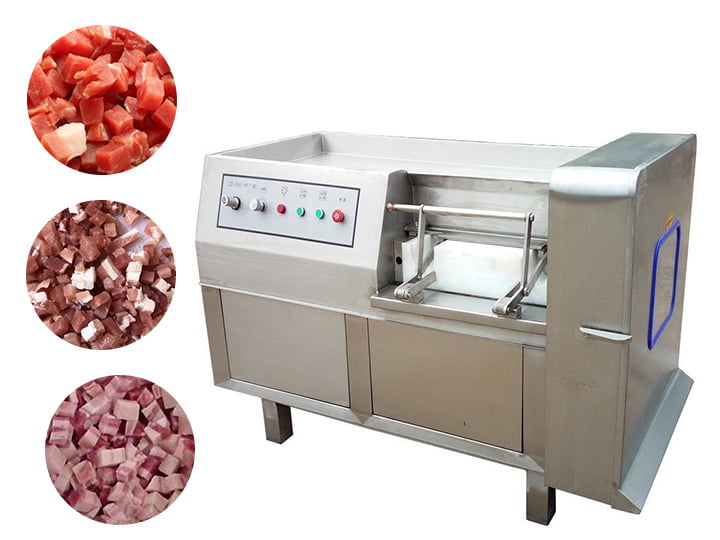 Multifunctional commercial meat dicing machine is widely used for dicing, shredding, and slicing frozen and fresh meat. This meat cutting machine is suitable for cutting a variety of meats, such as diced pork, diced beef, diced lamb, etc. This meat cube cutting equipment solves the shortcomings of low manual efficiency, uneven dicing size, and easy injury. The meat dicer machine is widely used in large, medium, and small meat food processing plants. It is the best equipment for food processing and cutting meat.
Parameters of commercial meat dicer machine
| | | |
| --- | --- | --- |
| model | TZ-350 | TZ-550 |
| power | 3kw | 3.7kw |
| voltage | 380v | 380v |
| capacity | 300-400 kg/h | 700-1000 kg/h |
| cutting size | 3-30mm | 5-30mm |
| weight | 500kg | 700kg |
| size | 1480*800*1000 mm | 1950*1000*1100 mm |
Frozen meat dicing machine application
The frozen meat dicer machine is suitable for cutting meat from -10℃ to room temperature.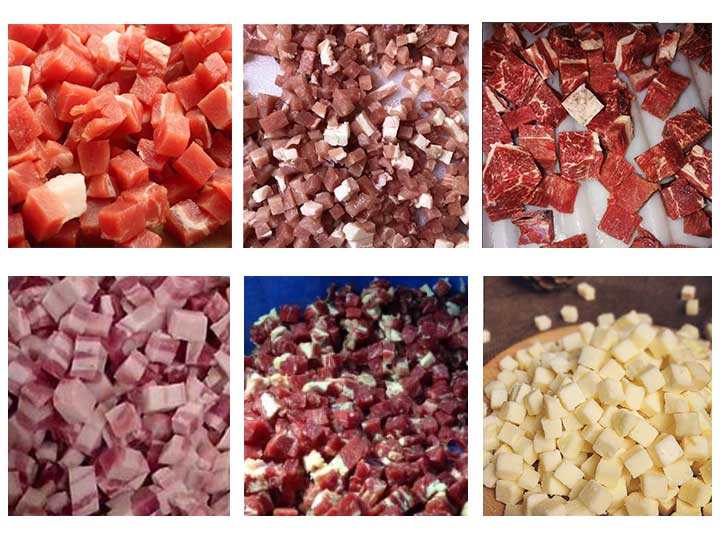 The machine is also suitable for cutting all kinds of semi-thawed meat, fresh meat, fatty meat, vegetables, and fruits. It has the functions of dicing, shredding, cutting, and slicing.
Meat dicing machine working principle
The meat dicing machine consists of a blade, a set of circular knife shafts, and a set of cross cutter shafts. The dial drives the meat to be cut to rotate at a high speed. Under the action of the centrifugal force, the vertical blade cuts the meat into slices. Then the round knife blade cuts the meat into strips. Finally, it is cut into the required cube or cuboid shape by the cross-cutting blade. The precision of the dicing machine is very high, and the gap between the blades is less than 0.1mm. The dicing size range of the machine is 4-30mm. Therefore, different sizes of diced meat can be obtained by changing blades of different sizes.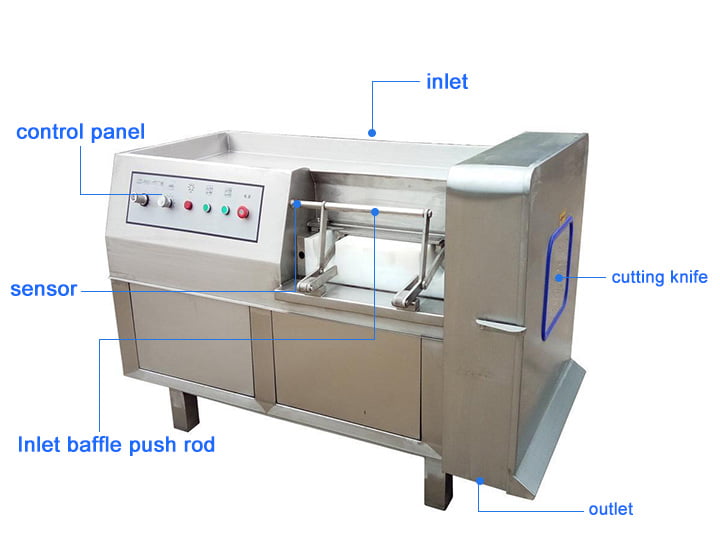 Features of meat cube cutting machine
The machine adopts all 304 stainless steel, with a stable structure and simple operation.
The meat dicer machine has good safety performance, once the front door is opened, immediately stop working to reduce unnecessary injuries.
Using an automated touch screen operating system, the cutting thickness can be controlled by adjusting the cutting thickness button, and the pressure button can be adjusted to ensure that the machine remains consistent during the cutting process.
The meat pusher is designed to reduce the squeezing of the meat during the cutting process.
The blade of the frozen meat dicing machine is easy to disassemble and install, and it is convenient to clean.
The meat cube cutting machine can control the size of diced meat by changing the number of blades and can control the size of diced meat by changing different size molds.